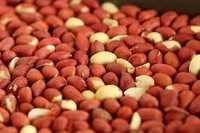 Big Blanched Indian Peanut Seeds
Product Description
Big Blanched Indian Peanut Seeds
Peanuts are not technically a nut, but rather a legume, belonging in the dried bean family. Peanuts are a naturally nutrient and energy dense food. They are the most popular "nut" choice and contain more protein than others as well. Protein is essential for proper muscle growth and maintenance. They have a low carbohydrate to protein ratio, so they are especially ideal for those who follow low carbohydrate, high protein diets.
Raw peanuts contain minimal sodium and are cholesterol free. They are packed with various vitamins and minerals that promote good health. They are high in fiber which adds bulk to diet, helps you feel full longer, aids in digestion, and prevents constipation. The vitamin, niacin, helps convert food to energy, aids in digestion, and plays a role in the nervous system. Folate may lower the risk of heart disease and is vital during pregnancy for preventing spinal and neurological birth defects. The antioxidant, vitamin D, helps protect cells from damage caused by oxidative stress which can lead to diseases. Other vitamins that peanuts are rich in are: thiamin, vitamin B6, and riboflavin.
Even though peanuts are high in calories and fat, most of the fat is considered healthy fat. One serving of peanuts contains about 14 grams of fat total. Out of those 14 grams, about 12g are healthy fats. While about 15-20% of the fat content is saturated fat, the majority of the fat is from monounsaturated and polyunsaturated fats. While saturated fat raises cholesterol levels and contributes to type 2 diabetes and coronary artery disease, unsaturated fats reduce the risk of those. Oleic acid, the monounsaturated fat in peanuts is the same fat found in olive oil; which is beneficial to cardiovascular health.
Contact Us
MUN No.: 11/1/24, Near Railway Crossing, Beside Umiya Hotel, Railway Station Road, Unjha, Gujarat, 384170, India
Phone :+918068094302