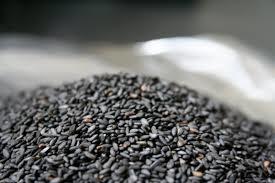 Product Description
Black Brownish Sesame Seeds :
While sesame seeds have been grown in tropical regions throughout the world since prehistoric times, traditional myths hold that their origins go back even further. According to Assyrian legend, when the gods met to create the world, from sesame seeds.
A Few Quick Serving Ideas:
Add sesame seeds into the batter the next time you make homemade bread, muffins or cookies.
Use the traditional macrobiotic seasoning, gomasio, to enliven your food. You can either purchase gomasio at a health food store or make your own by using a mortar and pestle. Simply mix together one part dry roasted sea salt with twelve parts dry roasted sesame seeds.
Sesame seeds add a great touch to steamed broccoli that has been sprinkled with lemon juice.
Spread tahini (sesame paste) on toasted bread and either drizzle with honey for a sweet treat or combine with miso for a savory snack.
Combine toasted sesame seeds with rice vinegar, soy sauce and crushed garlic and use as a dressing for salads, vegetables and noodles.
Healthy sauté chicken with sesame seeds, soy sauce, garlic, ginger and your favorite vegetables for a healthy, but quick, Asian-inspired dinner.
Contact Us
MUN No.: 11/1/24, Near Railway Crossing, Beside Umiya Hotel, Railway Station Road, Unjha, Gujarat, 384170, India
Phone :+918068094302