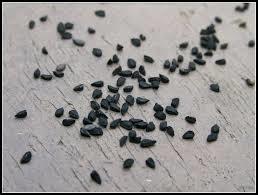 Black Kalongi - Nigella Sativa
Product Code : CRE 120
Product Description
NIGELLA SATIVA- KALONGI SEED
Kalonji – Nigella sativa – Small fennel, a promising spice against cancer and chemotherapy side effects, useful to lower cholesterol, useful in asthma, diarrhoea, nephrotoxicity (toxins in Kidney) and Hepato toxicity (toxic liver). It is a good anti inflammatry, analgesic, relieves pain, fever and inflammation.
Nutritional Facts of Kalonji Oil
Nutritionally, Kalonji oil is having many minerals and important nutrients. The black seeds are rich source of calcium, iron, sodium and potassium. This black seed oil has high nutritional value containing dietary fiber in the form of monosaccharides and non-starch polysaccharides. Monosaccharides are found in Kalonji as glucose, rhamnose, xylose, and arabinose. Kalonji is abundant in fatty acid, especially the essential fatty acid and unsaturated one. Total 15 amino acids, which are the building blocks of protein, are found in the black seeds. Arginine and carotene are good for infant growth and vitamin A formation respectively.
The health benefits of Kalonji oil are unlimited. Kalonji oil has been used as miracle cure for a number of diseases and disorders. The black seeds oil is unparallel in its efficiency to cure health ailments. Pure Kalonji black cumin oil, which is extracted from Nigella seeds, is used as a component in the preparation of many medicines. The black seed oil is helpful in maintaining health and develop resistance of the body, thus save the body from different infections. It has been the part of more than 200 modern medicine researches. Nigella sativa oil is unique and has the ability to cure many health ailments.
Contact Us
MUN No.: 11/1/24, Near Railway Crossing, Beside Umiya Hotel, Railway Station Road, Unjha, Gujarat, 384170, India
Phone :+917259472096