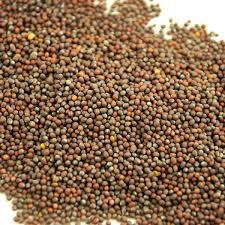 Bold CREDENCE Mustard Seeds
Product Code : CRE 111 - CRE 114
Product Description
Black Bold Mustard Seed:
The earliest mention of mustard seeds in the history of India is in a story of Gautama Buddha, where he is seen advising a crying mother to gather a handful of mustard seeds from a house which has never seen the death of a family member. The mother realizes that she is not alone who has experienced the death of her son, there are many like her who have gone through the same pain. Mustard seeds were extensively used in French cuisine which can be traced back to 800 AD, while the seeds have been a popular spice in Spain since the 15th century.
According to historical records, it was Rome that first invented the concept of making a paste from mustard seeds and using it as a condiment in cooking. Mustard seeds were also a popular spice in ancient Greece. The mustard seed has often found a place in the scriptures of various religions. The Quran says that Allah punishes all forms of injustice, even if it is the size of one mustard seed. The Jewish texts compare the size of the universe to the size of a mustard seed to signify how insignificant worldly pleasures are.
In the New Testament of the Bible, Jesus states that the kingdom of God initially started as the size of a mustard seed and then gradually grew in size. Today mustard seeds are one of the most widely traded spices, with the major produce coming from Hungary, Great Britain, India, Canada and the United States.
Most Commonly called up terms:
Mustard seeds, also known as 'Sarso' or 'Rai' in Hindi, 'Kadugu' (Tamil & Malayalam), 'Avalu' in Telugu, 'Rai' in Gujarati, 'Shorshe' in Bengali, 'Mohori' in Marathi and 'Rai' in Punjabi. Mustard seeds are a very popular ingredient in the American cuisine. These seeds are used for taste generally in hot dogs, where mustard sauce is very much preferred
Contact Us
MUN No.: 11/1/24, Near Railway Crossing, Beside Umiya Hotel, Railway Station Road, Unjha, Gujarat, 384170, India
Phone :+917259472096