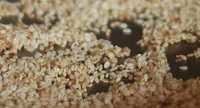 Dietary HUSK Sesame Seed
Product Description
Dietary Husk Sesame Seed

There Is A Little Bit Of Controversy About Sesame Seeds And Calcium, Because There Is A Substantial Difference Between The Calcium Content Of Hulled Versus Unhulled Sesame Seeds. When The Hulls Remain On The Seeds, One Tablespoon Of Sesame Seeds Will Contains About 88 Milligrams Of Calcium. When The Hulls Are Removed, This Same Tablespoon Will Contain About 37 Milligrams (About 60% Less). Tahini—A Spreadable Paste Made From Ground Sesame Seeds—Is Usually Made From Hulled Seeds (Seeds With The Hulls Removed, Called Kernels), And So It Will Usually Contain This Lower Amount Of Calcium.

The Term "Sesame Butter" Can Sometimes Refer To Tahini Made From Sesame Seed Kernels, Or It Can Also Be Used To Mean A Seed Paste Made From Whole Sesame Seeds—Hull Included.

Although The Seed Hulls Provide An Additional 51 Milligrams Of Calcium Per Tablespoon Of Seeds, The Calcium Found In The Hulls Appears In Large Part To Be Found In The Form Of Calcium Oxalate. This Form Of Calcium Is Different Than The Form Found In The Kernels, And It Is A Less Absorbable Form Of Calcium. So Even Though A Person Would Be Likely To Get More Calcium From Sesame Seeds Or Sesame Seed Butter That Contained The Hulls, There Is A Question About How Much More Calcium Would Be Involved. It Would Defintely Be Less Than The 51 Additional Milligrams Found In The Seed Hulls. And There Would Also, Of Course, Be A Question About The Place Of Hull-Containing Sesame Seeds On An Oxalate-Restricted Diet.


Contact Us
MUN No.: 11/1/24, Near Railway Crossing, Beside Umiya Hotel, Railway Station Road, Unjha, Gujarat, 384170, India
Phone :+918068094302