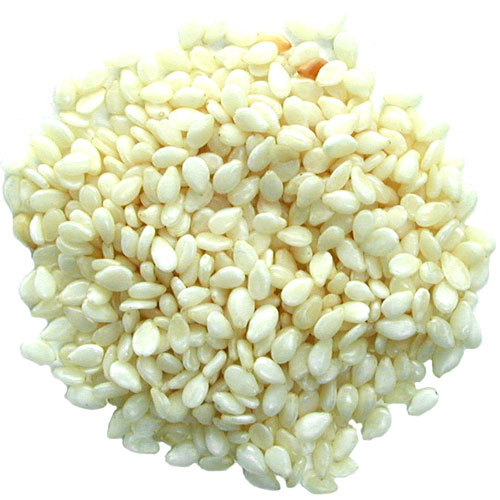 Fine Semi + Hulled Sesame Seeds
Product Code : CRE146-149
Product Description
SEMI + HULLED SESAME SEED ...
Sesame requires well-drained sandy soil and tropical environment to flourish. It grows about 5 feet in height and bears plenty of pink-white foxglove type flowers. The pods appear soon, containing white, brown, or black seeds depending upon the cultivar type, arranged in rows inside. Each pod (2-5 cm in length) is a long rectangular box like capsule with deep grooves on its sides. A single pod (1 to 2 inches in length) may contain up to 100 or more seeds.
Nutritional fact benefits & Advantages......:
One of the first oil seeds known to humankind, sesame seeds have been widely employed in culinary as well as traditional medicines for their nutritive, preventive, and curative properties.
Sesame are an important sources of phyto-nutrients such as omega-6 fatty acids, flavonoid phenolic anti-oxidants, vitamins, and dietary fiber with potential anti-cancer as well as health promoting properties.
Contact Us
MUN No.: 11/1/24, Near Railway Crossing, Beside Umiya Hotel, Railway Station Road, Unjha, Gujarat, 384170, India
Phone :+917259472096