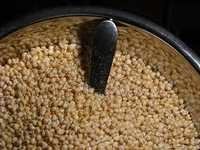 Green Millet Price - jowar
Product Description
GREEN MILLET SEED

This ancient grain, with its mildly sweet flavor, is tasty, soothing, non-acid forming, and contains a myriad of beneficial nutrients. This readily-available food is one of the least allergenic and most digestible, gluten-free American grains. While Americans are becoming familiar with millet, this wonderful grain ranks as one of the most important cereal grains, feeding more than one third of the world's population.
Beneficial Nutrients
15% protein
High amounts of fiber
B-complex vitamins including niacin, folacin, thiamin, and riboflavin
High in iron, magnesium, phosphorus, manganese, and potassium
Calcium & zinc
The essential amino acids methionine, lecithin, and some vitamin E.
Rich in photochemicals including phytic acid, which is believed to lower cholesterol, and phytate, which is associated with reducing cancer risks.
Contact Us
MUN No.: 11/1/24, Near Railway Crossing, Beside Umiya Hotel, Railway Station Road, Unjha, Gujarat, 384170, India
Phone :+918068094302