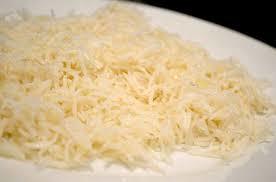 Ideal Indian Dawat Basmati Rice
Product Code : CRE 526 - CRE 527
Product Description
Ideal Indian Dawat Basmati Rice
One of the oldest cereal grains, rice (Oryza sativa) is believed to have been grown for at least 5000 years.
It is a staple food for more than half of the world's population, particularly those living in southern and eastern Asia.
White rice is the most commonly consumed type, but brown (whole grain) rice is becoming increasingly popular in some Western countries due to its health benefits.
Various products are made from rice. These include rice flour, rice syrup, rice bran oil, and rice milk.
Vitamins and Minerals
The nutrient value of rice depends on the variety and cooking method.
Many vitamins and minerals are concentrated in the bran and germ, which are components of brown rice, but not white.
Manganese:

A trace mineral found in most foods, especially whole grains. It is essential for metabolism, growth, development, and the body's antioxidant system.

Selenium:

A mineral that is a component of selenoproteins, which have various important functions in the body.



Contact Us
MUN No.: 11/1/24, Near Railway Crossing, Beside Umiya Hotel, Railway Station Road, Unjha, Gujarat, 384170, India
Phone :+917259472096