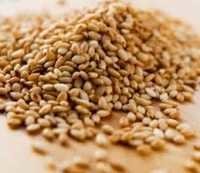 Indian Natural Sesame Seed 99.95% Purity
Product Description
Natural sesame seed - clean
Sesame is a high protein food having around 25% protein, Our Natural Sesame Seeds are obtained through a special High-Tech cleaning process which results in a high purity product of uniform color, size and taste. This product is also available as Certified Organic. Sesame seed in natural form like whitish natural sesame seed, natural black sesame seed, toasted natural sesame seed with 99.99% purity. Natural whitish sesame and natural black sesame seed manufacturer and exporter from India under the brand name of Best Harvest.

Sesame seeds originate from the plant Sesamum Indicum L. suitable for human consumption. Natural Sesame Seeds contain all the natural nutrients of sesame seeds. Sesame seeds have high oil content (approx. 48% min.) and protein content (approx. 25%).

Sesame seeds are good source of calcium, proteins, vitamins, Iron, phosphorus and dietary fiber.

Sesame seeds reduces cholesterol level and prevents high blood pressure in the body.


It is used as a spice condiment or as a garnish in many ethnic dishes and bakery items to enrich taste & nutritional values.
Sesame Oil is used for cooking due to its healthy properties.

Food fried in Sesame oil has long shelf life because the oil contains antioxidant called "Sesamol".


Contact Us
MUN No.: 11/1/24, Near Railway Crossing, Beside Umiya Hotel, Railway Station Road, Unjha, Gujarat, 384170, India
Phone :+918068094302