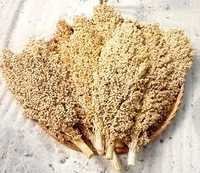 Indian Rich Sorghum
Product Description
Brown - White Sorghum Seed Indian Grain

Sorghum Is An Ancient, 100 Percent Whole Grain Kernel That Is Ground Into A Fine Flour That Can Be Used In Various Ways For Cooking And Baking. While Historically It's Taken A Backseat In The U.S. To Grain Alternatives And Sandwich Substitutes Like Corn, Quinoa Or Potatoes, The Growing Knowledge Of Gluten Sensitivities And The Gluten-Free Diettrend In Recent Years Have Now Brought Sorghum Flour Into The Spotlight.

Sorghum Flour — Which Is Beige Or White In Color, Considered To Be "Sweet," Softly Textured And Mild-Tasting — Is Now A Popular Ingredient Found In Many Health Food Stores And Large Supermarkets. While It'S Still Hard To Find 100 Percent Whole Grain Sorghum Grains In Most Stores, Most Well-Stocked Major Grocery Stores Now Sell Gluten-Free Flour Blends, Including Sorghum Flour, That Are Convenient, Healthy And Perfect For Baking And Other Uses.

Helps To Fight

Eating A Whole Foods-Based Diet That Is High In Available Phytochemicals Is Consistenly Linked To Better Protection From Common Nutrition-Related Diseases Including Cancer, Cardiovascular Disease And Obesity. So It's No Surprise That Epidemiological Evidence Suggests That Sorghum Consumption Reduces The Risk Of Certain Types Of Cancer In Humans Compared To Other Cereals. The High Concentration Of Anti-Inflammatory Phytochemical Antioxidants In Sorghum Are Partly Responsible, As Is The High Fiber And Plant-Based Protein Content, All Of Which Make It A Potential Cancer Natural Remedy.


Contact Us
MUN No.: 11/1/24, Near Railway Crossing, Beside Umiya Hotel, Railway Station Road, Unjha, Gujarat, 384170, India
Phone :+918068094302