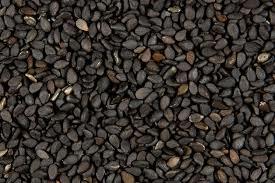 Product Description
Natural Black Sesame Seed:

Gone are the days when sesame seeds where something that you gave to the birds or enjoyed with prawn toast or a burger bap. These tiny seeds are quickly earning a reputation for being a nutritional powerhouse. The sesame plant is one of the oldest cultivated plants in the world and as well as being a popular seed it is also a desirable oilseed used in professional and domestic kitchens across the world.

The power of the sesame seed dates back thousands of years ago when it was used by the Egyptians as a medicine, while the women of ancient Babylon mixed honey with sesame seeds to prolong youth and beauty. While we can't guarantee sesame seeds will keep you looking younger, it can actually be really good for your skin and can often be found in many skin care products. Healthy skin is just one of the many benefits of adding sesame seeds to your diet. Below we take a look at the top benefits to adding this seed to your diet.

There are many ways to start enjoying sesame seeds in your diet but perhaps the most popular is to simply sprinkle it on top of your favourite meals. Sprinkle them over a salad and enjoy the nutty taste and added texture of the seeds with your meal.

As well as adding sesame seeds to your favourite meals, using them in baking in the form of breads and cakes is becoming increasingly popular. If you would like to start enjoying the benefits of sesame seeds in bread be sure to try your hand at our multi seed bread recipe which uses Linwoods milled flaxseed, sunflower, pumpkin & sesame seeds and goji berries.




Contact Us
MUN No.: 11/1/24, Near Railway Crossing, Beside Umiya Hotel, Railway Station Road, Unjha, Gujarat, 384170, India
Phone :+918068094302