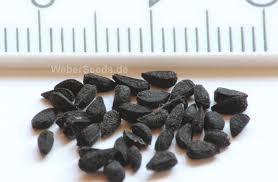 Nigella Seeds Best Quality From India
Product Code : CRE-120
Product Description
Black Sesame Seed (Kalongi):
Almost all of us have come across the terms Kalonji and Kalonji oil but how many of us really know what it is and what are its functions or uses? Well, Kalonji seeds in English are known as Nigella sativa, and it is an annual flowering plant that is native to South and South-West Asia. The black cumin seeds or Kalonji seeds are obtained from the black cumin fruits that contain numerous seeds. Black cumin seeds or nigella are widely used in India and Middle Eastern countries as a spice in cuisines, because of its pungent and bitter taste.
The plants of Kalonji are found throughout India in the form of bushes. The height of the plant
is approximately half a meter. It possesses blue flowers. It originated from Turkey and Italy.
Later on, it was brought to Asia by physicians and cultivated in India. Seeds are triangular in
shape, black in colour, possess a severe pungent smell and contain a considerable amount of
oil. It is incorrect that Arabs learnt its use from the Greeks, because before the advent of Islam
, no description or record is found about its use. Its therapeutic use was initiated after the
advent of Islam, since; Prophet Muhammad (sallallahu alaiyhi wassallam) mentioned its
therapeutic efficacy and potential of cure.
Kalonji seeds contain more than 100 components and possess excellent healing properties. It has been used for over 2000 years as a medicine for treatment of headache, toothache, nasal congestion and skin diseases. It is a powerfulremedy for psoriasis, dry skin, eczema and dandruff. It can be used as an internal treatment for asthma, digestive disorders, arthritis and weak immune systems. It is often called the cure for all diseases.
Contact Us
MUN No.: 11/1/24, Near Railway Crossing, Beside Umiya Hotel, Railway Station Road, Unjha, Gujarat, 384170, India
Phone :+917259472096