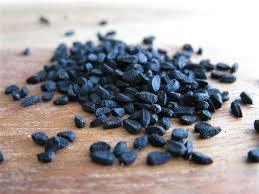 Nigella Seeds - Black Cumin Seed
Product Code : CRE-120
Product Description
NIGELLA SATIVA - KALONGI SEEDS
Black seed, nigella or kalonji, is also known as the "seed of blessing" as it is considered to be one of the greatest healing herbs of all times. The small black seeds are got from kalonji bushes, which are grown widely throughout India. The seeds are about the same size as sesame seeds, though they have a more triangular instead of oval shape.

Apart from being a wonderful medicine, kalonji is a superb spice, used to flavour a variety of traditional dishes including pickles.

Today, black seed is used for treating digestive tract conditions including gas, colic,diarrhea, dysentery, constipation, and hemorrhoids. It is also used for respiratory conditions including asthma, allergies, cough, bronchitis, emphysema, flu, swine flu, and congestion.

Other uses include lowering blood pressure, lowering cholesterol levels, treating cancer, and boosting the immune system. You may read that a patent has been issued to cover the use of black seed to improve immunity, but don't be misled. The presence of a patent doesn't mean black seed has been shown to be effective for this use.

Women use black seed for birth control, to start menstruation, and to increase milk flow.


Contact Us
MUN No.: 11/1/24, Near Railway Crossing, Beside Umiya Hotel, Railway Station Road, Unjha, Gujarat, 384170, India
Phone :+917259472096