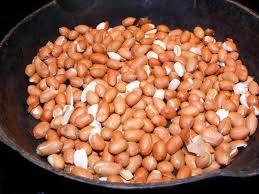 Roaster & Toaster BOLD indian Peanut
Product Code : CRE 406 - CRE 407
Product Description
Roaster & Toaster Bold Indian Peanut
Peanuts, Popularly Known As Groundnuts,Monkey Nuts, Pig Nuts, Etc Belong To The fabaceae (Bean) Family. Peanuts, Arachis Hypogaeais A Legume Species, And Native To South America, Mexico And Central America. An Annual Herbaceous Plant, That Grows Almost To Ground Level, With Very Slender Stems, Leaves That Are Opposite And Pinnate With Four Leaflets, Flowers That Are Pea-Shaped, And Fruits (Legumes) That Are Basically Seeds That Sprout And Mature Underground. Presently, Its Cultivated World Over In Climates That Are Favorable For Its Growth; Long Warm Periods And Plenty Of Rain.
As The Stalks Grow, They Start To Droop To The Ground. When The Pods Begin To Form, They Slowly Force Their Way Underground, Ultimately Maturing Under The Soil, Forcing The Farmer To Dig The Netted, Tan Colored Pods Up. It Is Possible That Peanuts Developed This Growth Habit As A Method Of Protection From Hot Tropical Sun, Since They Have Thin Pods. Once The Peanut Pods Are Harvested, The Plant Is Removed, And Typically Used For Animal Fodder.
Despite Their Name, Peanuts Are Not Actually Nuts, They Are Legumes. In Most Culinary Uses, Peanuts Are Classified As Nuts Because They Behave More Like Nuts In The Kitchen Than Other Legumes, Such As Lentils And Beans. For People With Nut Allergies, The Distinction Is Particularly Important, Since Many Individuals With Nut Allergies Can Eat Peanuts Safely. Conversely, People Who Are Allergic To Peanuts Can Often Eat Nuts.
Contact Us
MUN No.: 11/1/24, Near Railway Crossing, Beside Umiya Hotel, Railway Station Road, Unjha, Gujarat, 384170, India
Phone :+917259472096