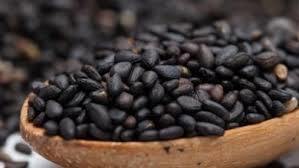 Product Description
Natural Black Sesame Seed
After harvesting, the seeds are usually cleaned and hulled. In some countries, once the seeds have been hulled, they are passed through an electronic colour-sorting machine that rejects any discolored seeds to ensure perfect colour. This is done because sesame seeds with consistent appearance are perceived to be of better quality by consumers, and sell for a higher price. Immature or off-sized seeds are removed and used for oil production.
Sesame is drought-tolerant, in part due to its extensive root system. However, it requires adequate moisture for germination and early growth. While the crop survives drought, as well as presence of excess water, the yields are significantly lower in either conditions. Moisture levels before planting and flowering impact yield most.
Most commercial cultivars of sesame are intolerant of water-logging. Rainfall late in the season prolongs growth and increases high harvest-shattering losses. Wind can also cause shattering at harvest.
Initiation of flowering is sensitive to photoperiod and to sesame variety. The photoperiod also impacts the oil content in sesame seed; increased photoperiod increases oil content. The oil content of the seed is inversely proportional to its protein content.
Sesame varieties have adapted to many soil types. The high-yielding crops thrive best on well-drained, fertile soils of medium texture and neutral pH. However, these have low tolerance for soils with high salt and water-logged conditions. Commercial sesame crops require 90 to 120 frost free days. Warm conditions above 23 °C (73 °F) favor growth and yields. While sesame crops can grow in poor soils, the best yields come from properly fertilized farms
Under certified by :
Contact Us
MUN No.: 11/1/24, Near Railway Crossing, Beside Umiya Hotel, Railway Station Road, Unjha, Gujarat, 384170, India
Phone :+918068094302