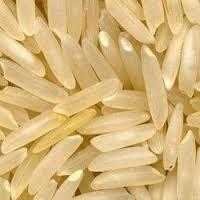 Sugandha Sella Bamati Rice
Product Description
Sugandha SELLA RICE :
As stated previously, rice is a low fat, low cholesterol food. Most of its very minimal fat content located in the grain's germ, which is stripped away during the milling process for white rice. Brown rice maintains its germ, and has a very slightly higher fat content.
Most of your concern regarding fat consumption should come from how you prepare your rice dish; whether or not you use a lot of butter or oil while it's in the rice cooker, and what kind of toppings you're putting on it. Plain basmati rice itself is very low in fat, with about 1 g per serving.
Rice isn't exactly known for its protein, with only about 3 g per serving, but the little rice protein it does contain is very valuable. Rice protein contains all eight essential amino acids! It's also, perhaps most importantly, a gluten-free grain. This means people who are gluten intolerant can enjoy a bowl of rice with little to no problems.
So you've decided that basmati rice is something you want to add to your diet, but now you might be wondering how to prepare it. Don't start whipping out the instant rice boxes yet! Cooking rice at home is actually very easy, a lot cheaper, and healthier, since you're in control of what goes in and what doesn't.
Contact Us
MUN No.: 11/1/24, Near Railway Crossing, Beside Umiya Hotel, Railway Station Road, Unjha, Gujarat, 384170, India
Phone :+918068094302