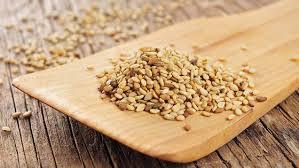 Superfine Natural Sesame Seed 99% Purity
Product Code : CRE141 - CRE 142
Product Description
NEW/OLD CROP NATURAL SESAME SEED
Sesame seeds are truly one of the most ancient foods on earth. In fact, sesame plants are the oldest known plant species to be grown primarily for their seeds (pods) and oils rather than for their leaves, fruit or vegetables.
Highly valued in eastern, Mediterranean and African cultures, sesame seeds (Sesamum indicum) have been used for thousands of years to flavor foods, provide essential fats and enhance skin health. Sesame has one of the highest oil contents of any seed and a rich, nutty flavor, which is why sesame oil, tahini and the seeds themselves are common ingredients in cuisines across the world.
Sesame seeds come from a flowering plant in the genus Sesamum. Sesame seed pods burst open when they reach full maturity. The actual seeds of the sesame plant hold the valuable oils. Sesame seeds contain up to 55 percent oil and 20 percent protein, making them a high source of both essential fatty acids and certain amino acids.
The seeds contain about 50 percent to 60 percent of a fatty oil that is characterized by two beneficial members of the lignan family: sesamin and sesamolin. Sesame oil also contains two other phenolic compounds, sesamol and sesaminol, that are formed during the refining process.
Sesame seeds, popularly known as 'Til' in Hindi, 'Nuvvulu' in Telugu, 'Ellu' (Tamil, Malayalam,Kannada), 'Teel' in Marathi and 'Til' in Bengali are the oldest condiment known to mankind. They are nutty and fragrant seed variants. They add a lovely crunch to many Asian and Middle Eastern dishes. Both these races are known for their longevity
Contact Us
MUN No.: 11/1/24, Near Railway Crossing, Beside Umiya Hotel, Railway Station Road, Unjha, Gujarat, 384170, India
Phone :+917259472096