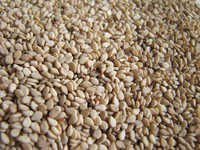 white premium Sesame Seeds
Product Description
White Premium Sesame Seeds

These Seeds Can Be Consumed In The Raw Or Dried Form, Or Even As Roasted Snacks. They Are Used As An Ingredient In Several Cuisines.
Dry Roasted Sesame Seeds Are Ground With Olive Into A Thin, Light Brown Colored Paste, Known As 'Tahini', Which Is A Popular Middle-Eastern Dip. In Europe, They Are Commonly Used In The Manufacture Of Margarine.
There Are Several Varieties Of Sesame Seeds Depending On The Type Of Cultivar Such As White, Black And Brown Seeds.
White Sesame Seeds Have Higher Iron Content Than The Black Ones And Are Mostly Used As Ingredients In Food Or In The Form Of Oil.
Black Sesame Seeds Are More Flavorful And Have A Stronger Aroma Than White Or Brown Sesame Seeds And Are Preferably Used In Medicines. They Contain 60% More Calcium Than The White Ones.
Contact Us
MUN No.: 11/1/24, Near Railway Crossing, Beside Umiya Hotel, Railway Station Road, Unjha, Gujarat, 384170, India
Phone :+918068094302