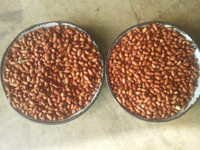 WHOLE PEANUT PICKER
Product Description
WHOLE PEANUT PICKER
Peanuts are a type of nuts, originating in South America.
Scientifically known as Arachis hypogea, peanuts go by a variety of names, such as groundnuts, earth nuts, and goobers.
However, peanuts are technically not nuts. They actually belong to the legume family and are therefore related to beans, lentils, and soy.
In the US, peanuts are rarely eaten raw. Instead, they are most often consumed as roasted and salted whole peanuts or peanut butter.
Other products made from peanuts include peanut oil, peanut flour, and peanut protein. Peanut products are used in a variety of foods; desserts, cakes, confectionery, snacks, and sauces.
Not only do peanuts taste good, they are also rich in protein, fat, and various healthy nutrients.
Studies show that peanuts may be useful for weight loss, and are linked to reduced risk of cardiovascular disease.
Contact Us
MUN No.: 11/1/24, Near Railway Crossing, Beside Umiya Hotel, Railway Station Road, Unjha, Gujarat, 384170, India
Phone :+918068094302