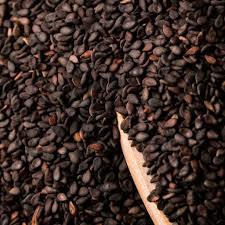 Z-Black Sesame Seed
Product Code : CRE 141 - CRE 143
Product Description
Z-Black Sesame Seed

"Taking black sesame seeds can heal all the chronic illness after 100 days, improve skin tone on body and face after 1 year, reverse gray hair after 2 years, and regrow teeth after 3 years." says the Compendium of Materia Medica, the largest and most comprehensive medical writings in the history of Traditional Chinese medicine (TCM). This herb is also known as Semen Sesami Nigrum and Hei Zhi Ma and related experiments show that the content of vitamin E contained in this herb is the highest in all foods of plant origin. It is well known that vitamin E can promote cell division and delay cell senescence. Long-term use can counteract or neutralize the accumulation of cell senescence substance of "radicals" and then delay aging and extend life expectancy. Of course, its health benefits are far more than just providing vitamin E. So, what is black sesame good for? Are black sesame seeds better than white ones? How to eat it to maximize its health benefits? All the questions related will be answered in this article soon.
What are black sesame seeds?

Actually it refers to dry mature seeds of Sesamum indicum L., a plant under the genus Sesamum of the family Pedaliaceae. It plants are usually harvested during autumn when the fruits at the peak of their ripeness. And next dry them in the sun, knock out of the seeds, remove impurities, and then dry in the sun once again.

It is flat oval, about 3mm long and 2mm wide. Surface is black and smooth or with netted wrinkles. Tip has brown punctate hilum. Seed coat is thin. Cotyledons are two, white, and rich in oil. It has slight odor, sweet taste, and oil aroma.

Main chemical constituents are up to 55% fatty oil, sesamin, sesamolin, sesamol, vitamin E, phytosterols, lecithin, pedaliin, protein, oligosaccharides, planteose, sesamose, and mall amounts of phosphorus, potassium and cytochrome C, folic acid, sucrose, pentosan and large amounts of calcium content. In addition, fatty oil mainly contains approximately 48% oleic acid, approximately 37% linoleic acid, palmitic acid, stearic acid, arachidonic acid, and glycerolipid of lignoceric acid.
Black sesame seeds benefits

As mentioned above, there are two types of sesame seeds – black and white sesame seeds. Both of them contain almost the same composition. So, what is the difference between them? By comparison, white sesame seed is better for edible purpose but the black version is preferable if used for medicinal purpose. To be specific, as the tonic black one is good at nourishing the liver and kidney and improving hair growth and hair color while white one is expert in relaxing bowel, nourishing yin and moisturizing to the skin. Besides, black sesame has high nutritional value. It also contains extremely valuable sesamin and melanin. As a result, it is widely used in treating hair loss and grey hair, inhibiting the growth of skin cancer cells from UV rays, lowering blood pressure, helping weight loss, improving fertility, and so on. And its pharmacological actions can reflect these effects well.


Contact Us
MUN No.: 11/1/24, Near Railway Crossing, Beside Umiya Hotel, Railway Station Road, Unjha, Gujarat, 384170, India
Phone :+917259472096